Info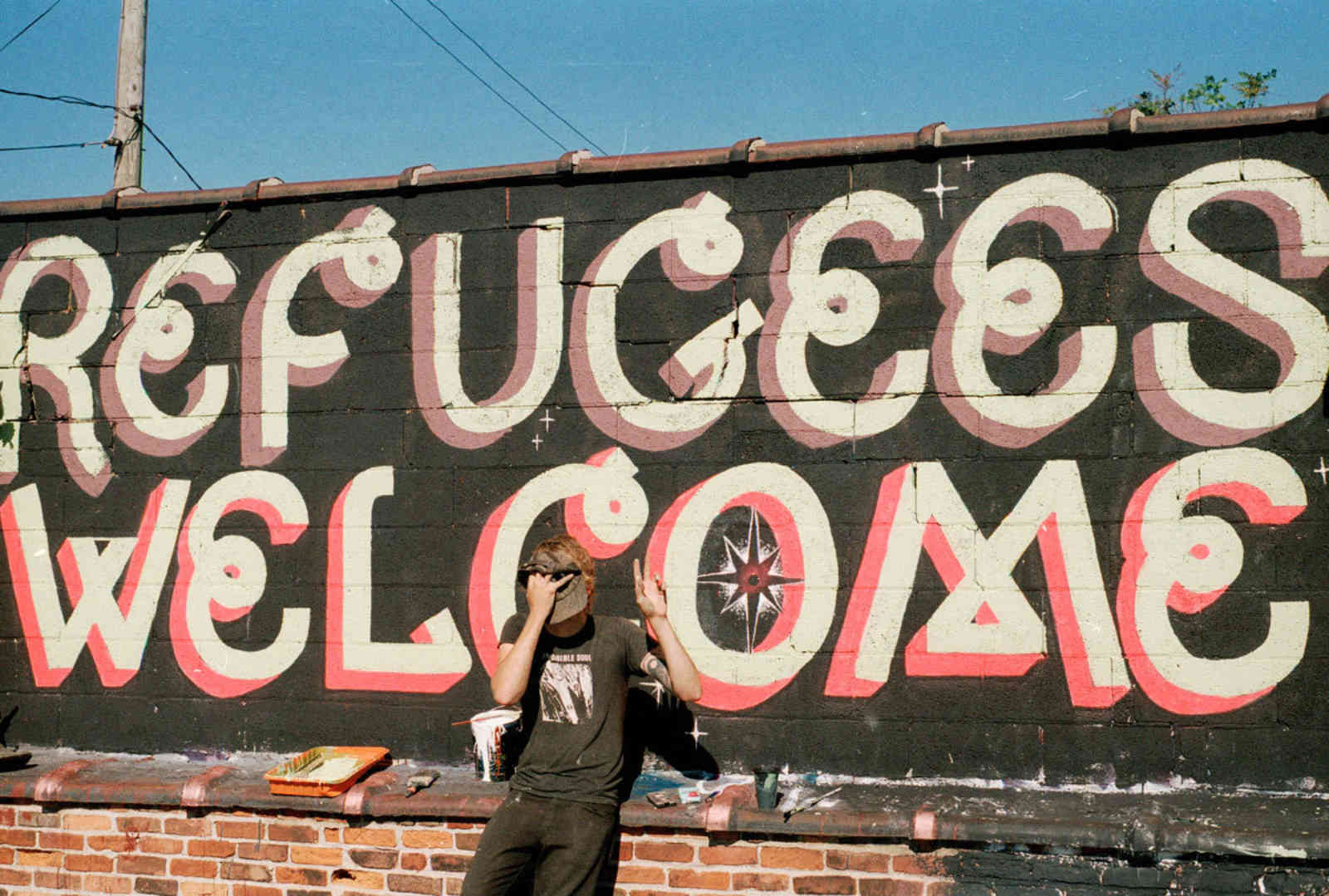 Pat Perry (b. Michigan, 1991) is an American visual artist primarily painting, drawing, photographing, and installing large-scale outdoor mural installations.
Throughout the 2010's, a series of sketchbooks and photos documenting years of traveling itinerantly around the United States, accidentally became some of Perry's most well-known works. Simultaneously, his large-scale works and posters have called attention to various social causes through collaborations with groups such as the Beehive Design Collective, AptArts, No More Deaths, and the UN High Commissioner For Refugees.
In 2018, Perry's largest body of paintings debuted as a solo exhibition titled, National Lilypond Songs at UICA in Grand Rapids, Michigan. In early 2020, several of the works were exhibited alongside new works in a solo exhibition titled, Song and Dance at Takashi Murakami's Hidari Zingaro gallery in Tokyo.
Perry's ongoing series of Recital works use a fictional group of performers to animate social and emotional effects of new technologies, as well as knowledge limits and meaning-making. The works include paintings, drawings, and installs of life-size performers on highway medians and roadsides throughout the Midwest. Pat works and lives in Detroit.
Contact:
hello@patperry.net
Instagram
Legal Representation:
Roger C. Thompson, (616) 340-3730
C/V

SOLO SHOWS
2021 Sensemaking, Hashimoto Contemporary, NYC
2020 Song and Dance, Hidari Zingaro Gallery, Tokyo, Japan
2018 National Lilypond Songs, UICA, Grand Rapids, MI
2016 The House You Came From, Dorothy Circus Gallery, Rome, Italy

GROUP SHOWS
2021 In the Margins, KAPP KAPP, NYC
2020 Context, Hashimoto Contemporary at Art Basel, Miami, FL
2019 Printmaking as Resistance, Morgan Conservatory, Cleveland, OH
2019 Supersonic Invitational, Hashimoto Contemporary, San Francisco, CA
2016 The Detroiter, Heron Arts, San Francisco, CA
2015 Manifest Justice, Los Angeles, CA
2014 Miscellanea, Martha Otero Gallery, Los Angeles, CA
2012 Annual Group Show, CAVE Gallery, Los Angeles, CA
2012 Monsters and Bikes, Chicago Academy of Science, Chicago, IL
2012 Cabin-Time, Calvin Gallery, Grand Rapids, MI
2012 End of the World, Compound Gallery, Portland, OR
2011 Removing the Safety Net, CAVE Gallery Los Angeles
2011 Stroke Art Fair, Berlin, Germany
2011 Superheroes SF, D-Structure, San Francisco, CA
PRESS
2019 Juxtapoz Magazine (Winter 2019 Issue)
2016 Communication Arts Annual
2016 When We Fight We Win! 21st Century Social Movements and the Activists That Are Transforming Our World
2015 Hi Fructose Vol. 35
2015 The Moth Arts and Literature
2013 Juxtapoz Magazine
2013 World War III Illustrated Vol. 44
2012 Lamono Magazine
2012 Stonecutter Issue 3
2012 IdN magazine Vol. 18
2012 Slice Magazine, cover artist
2011 Domestic Etch


SPEAKING ENGAGEMENTS
2018 Picnic Arts Conference, Mexico City, Mexico
2016 Street Art in Detroit Panel Discussion, University of Michigan, Ann Arbor, MI
2015 OFFF Montreal, Montreal, Quebec
2015 OFFF Barcelona, Barcelona, Spain
2014 MAD by Domestika, Madrid, Spain
2013 OFFF Barcelona, Barcelona Spain

SPECIAL PROJECTS AND COMMISSIONS
2019 mural commission for MetroTunnel, Rail Projects Victoria, City of Melbourne, AU
2019 mural collaborations with UNHCR/AptArts/refugee youth, Iraq
2018 mural collaboration with UNHCR/AptArts/refugee youth, Sulaymaniyah, Iraq
2017 Seawalls Churchill, Churchill, Manitoba
2017 UPEArts mural commission, Helsinki, Finland
2017 Seawalls Napier, New Zealand
2013 LoveME Collective, Artist Residency, Berlin, Germany
2012 National Parks Residency, Katmai National Park, Alaska
EDITORIAL CLIENTS
The New York Times
BBC
The Guardian
Science News
VICE Magazine
Twitter
Atlantic Records
Virginia Quarterly Review
Sony//Epic Records
Car and Driver
Malibu Magazine
California Sunday Magazine
Contagious Magazine
California Wildlife Center
Interviews:
Juxtapoz
Communication Arts
Street Art United States